Install using the Automated Installer¶
Requirements (for installing)¶
Windows/Linux/MacOS Computer

DCC-EX Compatible motor shield / motor controller board

DCC-EX Compatible Microcontroller (Arduino Mega/Uno)

USB cable to connect your computer to the Microcontroller
Note
For all versions, make sure your USB Cable is connected from your computer to the Command Station (CS). Make sure no other programs are using the computer's serial port.
Instructions for Windows, Mac OS X, and Linux (including the Raspberry Pi¶
Download the DCC-EX Installer which will automatically determine the version you need and download it

Extract the Installer into its own folder with your favorite unzip program

Open File Manager for Windows or a terminal window in Mac OS and Linux and navigate to that folder

Windows users run exInstaller.exe

Mac and Linux users run the following command: ./exInstaller
Warning
You may need to turn off your antivirus software before you try to install. We need a piece of Arduino software to be able to compile and upload the Command Station software which sometimes gets blocked. If you see errors on the install screen, this is usually the issue.
The Installer Window¶
Figure 1 - Installer Window
There will be a lot of information appearing in the log window, which can help us debug things if anything goes wrong. The installer needs to connect online to download the latest packages to support your hardware. It will take a few seconds to complete; this is normal. If you have a very slow internet connection it will take longer.
Choose your options¶
In the left side options pane, use the dropdown selector boxes to choose the following options:
Figure 2 - Options Pane
Select your Command Station Type

Select your Arduino Board Type

Select your Motor Shield

Select your COM Port (The installer should usually find it for you)

Check the checkbox for your networking method if you have a Network Shield or WiFi Shield installed

Check the checkbox for your display type if using an LCD or OLED display

Check the Free Mem warning if you need to diagnose memory issues

Press the "Compile and Upload" button
Test your setup¶
Note
The programming track is for programming only. Make sure you are on the main track if you expect your loco to move or respond to light or sound commands.
Using the Arduino IDE Serial Monitor¶
To test with the Arduino Serial Monitor, download the Arduino IDE from the following link and install it on your computer.
To do a quick test, open the Arduino application: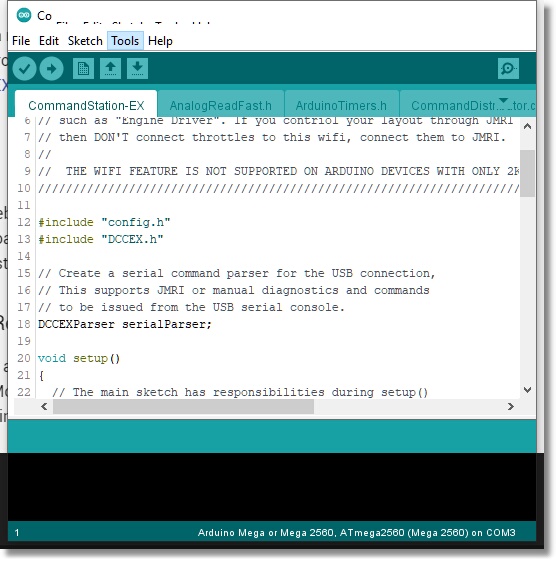 Figure 7 - The Arduino IDE
Select "Tools -> Serial Monitor" from the Arduino IDE menu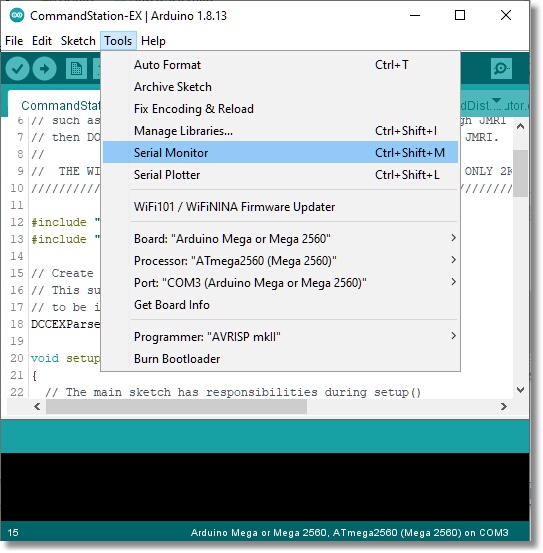 Figure 8 - Open the Serial Monitor from the Tools Menu
You will see the following screen: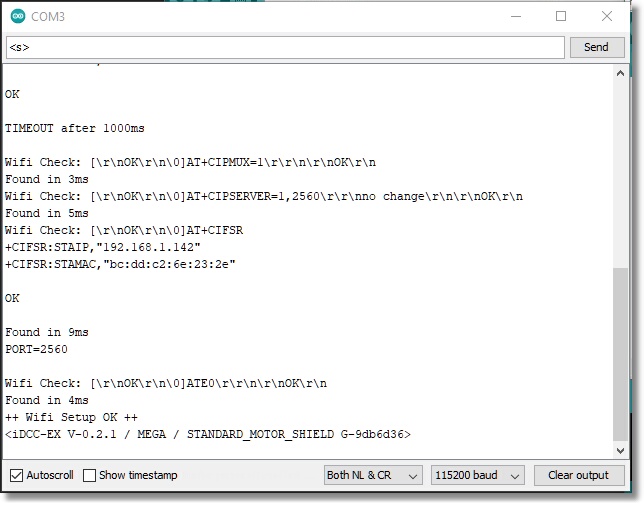 Figure 9 - Serial Monitor
Select "115200" as the baud rate in the dropdown in the lower right

Select "Both NL & CR" from the dropdown next to the baud rate
When you open the serial monitor you will see at least one line sent out as status information. If you have a WiFi board or Ethernet Shield you will see a page full of log information as it configures and connects to your network.
At the top of the serial monitor type <s> (lowercase "s") into the command textbox and press "Send". You should see:
<

iDCC

-

EX

 

V

-

0.2.1

 

/

 

MEGA

 

/

 

STANDARD_MOTOR_SHIELD

 

G

-

9

db6d36

>



This is the "status" command and reports your version, types of boards you are using, and a build number.
There are a lot of other commands you can enter here. As a matter of fact, you could use the serial monitor to test any of the DCC-EX API (application programming interface) commands. Please see the DCC++ EX Wiki for a list of commands.
Using exWebThrottle¶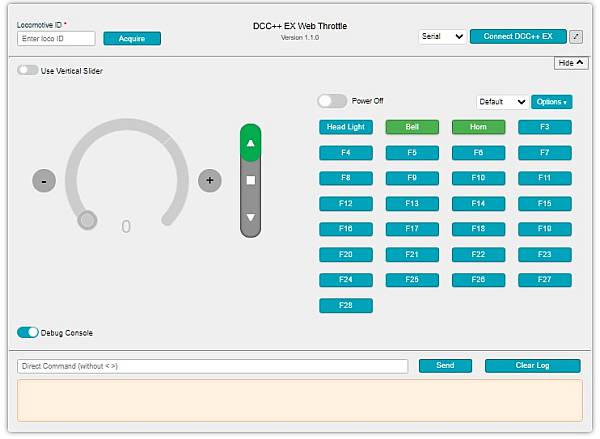 Figure 10 - exWebThrottle
Click this link: exWebThrottle to run exWebThrottle hosted on our site, or visit GitHub to get the latest version to run on your computer.
Using Engine Driver (or other WiThrottle Cab) - Requires WiFi¶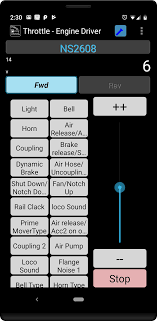 Figure 11 - Engine Driver
You will need to install Engine Driver on your mobile device and then connect to the CS, either directly with AP mode or through your router with Station Mode. You can then use your phone to control your trains.