Mega+WiFi Setup
A WiFi EX-CommandStation with just two boards (The Mega+WiFi board plus a Motor Shield)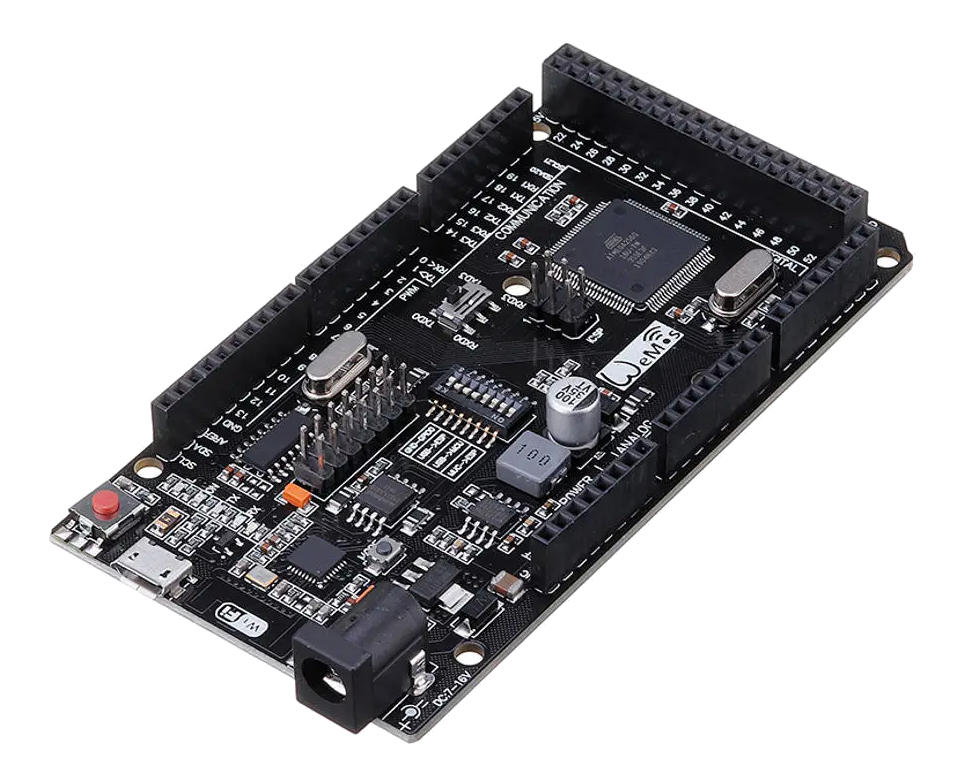 Do you know you are going want WiFi connectivity to connect your Throttle directly to your Command Station?
Are you okay with having to throw a few switches and upload a bit of firmware onto the built-in ESP8266 WiFi chip?
The process is easy, but since in involves having to use another bit of software and requires a couple of more steps, we labelled this option for Tinkerers, but it doesn't involve any soldering or jumper wiring.
---
Mega+WiFi Board is a combination of a Mega Clone and an ESP8266 WiFi chip on one board. Our guess is that like many boards made in China, this is only made by one or two factories, but sold under several names. Search for WiFi+Mega or ATmega2560+ESP8266.
Warning
Buyer beware! There have been numerous reports of build quality issues with these clone boards, with poorly soldered USB connectors and issues getting wireless working two commonly reported issues.
The DCC-EX team do not recommend the combined Mega2560 + WiFi due to the number of issues encountered in recent times.
This is our tested and proven configuration
EX‑CommandStation 3.0.6 or greater

ATMega2560 + ESP8266 WiFi - Combo Board

Deek-Robot L298P Standard Motor Shield (or other approved motor controller)

12-16V DC Laptop power supply to the Motor Shield (16V provides 14.5Vdc to the tracks for HO Gauge)*

7-9V DC power supply to the ATmega boards with a female 2.1mm power barrel plug

Android Smartphone with Engine Driver v2.28.123 or iOS Smartphone with WiThrottle

USB-A male to Micro USB-B cable

You will also need software provided in the links below and a toothpick or small jewellers screwdriver to be able to flip small switches.
* NOTE: The L298 Based motor drivers like the Arduino Motor Shield have a 1.5-2V voltage drop. More efficient boards do not have this issue. Be careful in choosing the correct voltage so that you don't put too much voltage on the track and potentially damage your decoders.
Flash the ESP8266 chip (requiring downloading of the ESP Files)

Edit your config file and Load the EX‑CommandStation v3.0.6 to the Mega2560 chip

Setup your Throttle
Note
This board uses a Micro-USB connector instead of the USB-B printer type connector used on regular Arduino Boards. It also uses the CH340G USB to Serial Driver chip instead of the FTDI on Arduino brands, so may require you to install a driver.
Access Point (AP) Mode (the default) makes the EX‑CommandStation an Access Point. That is a direct connection from your Throttle (Phone) to the EX‑CommandStation as a Local Intranet. There is no Internet access. Station (STA) Mode connects the Command Station to your local WiFi Router With Internet access. You then have to know the IP address your router assigns to the EX‑CommandStation so your Throttles (Controllers) can find it on your network.
If you choose to use Access Point (AP) Mode, there is nothing you need to do. Just make sure you select the network checkbox in the installer or rename the config.example.h file to config.h and install EX‑CommandStation. Go directly to step 5.
If you are going to want to connect to your WiFi router, you just need to enter your login information. Take a look at the Short Version of Network Setup below before proceeding to step 5. But keep in mind, you can always install, make changes, and install again.
If using the Arduino IDE, select ATMega2560 board from the "tools, boards" menu.

Select the correct COM port that sees your Mega and set baud rate to 115200

Click the upload button (the arrow pointing to the right near the checkmark in the upper left of the program window)
After the Arduino IDE uploads EX‑CommandStation sketch, make sure the serial port switch is set to RxD3/TxD3 and dip switch pins 1-4 are ON and 5-7 are OFF.
If not already connected to power, connect the Arduino ATMega2560 + ESP8266 WiFi board by Either a USB cable, or for Standalone Operations (no USB) you can use a 7-9vdc power supply in the Arduino 2.1mm female barrel jack.
When powered on through a USB cable, check the Arduino IDE Tools > Serial Monitor.

It should show the ATMega2560 & ESP8266 WiFi communicating and assigning a xxx.xxx.x.xxx IP Address and Port 2560 to the new EX‑CommandStation.

You should see ++ Wifi Setup CONNECTED ++
If operating in Station (STA) Mode, make sure your phone is connected to your local network (The same SSID and PASSWD you set in the config.h file)

If Operating in Access Point (AP) Mode, disconnect your phone/tablet from any other network and find the SSID for your Command Station in your network list. It will be "DCCEX_xxxxxx" where the x's are the last 6 characters of your WiFi chip's MAC address. Use the password "PASS_xxxxxx" where the x's are the same 6 characters.
Note
You MUST either forget your local network or turn off "auto-reconnect" for that connection when using Access Point (AP) Mode. If you do not, your phone will disconnect from the DCCEX_xxxxxx network and connect to either a stronger connection, or one that has a connection to the internet.
If the Engine Driver fails to connect the first time with the Command Station just press the Mega's red Reset button and try the IP/Port connection again.
You should have a direct Throttle connection to the EX‑CommandStation 3.0.5+ Standalone WiFi Command Station Via your home router.
Note
This is an Operations only config, the Engine Driver Power button only powers on the Main track, Not the Prog track. Function Keys are only local Default Function Settings, and are Not transferred from the JMRI Server Roster.
There a few things to try if you experience issues connecting or staying connected:
Connect a serial monitor to the USB port and watch the boot sequence. The code will check each serial port in order to see if anything responds to an "AT" command. You will see "OK" on a line where it finds your WiFi board on serial port 3 and failure if it does not.

Confirm that you see this exact line AT version:1.7.4.0(May 11 2020 19:13:04)
if you see any other version or date/time, then the flash did not work.

Make sure the little slide switch is set to Tx/Rx 3

Make sure you forget your local network if using Access Point (AP) Mode or set your home network to not automatically reconnect.

Try changing the WiFi Channel in your config.h file to another channel and uploading the firmware again.