JMRI (Java Model Railroad Interface)
JMRI is quite a powerful suite of software applications, and can be as simple or as complex as you wish to make it.
On this page, we will focus on utilising JMRI as a throttle only.
The first thing you need to do is connect your EX‑CommandStation to JMRI.
If you haven't done so already, follow the instructions outlined in the JMRi help page to get connected.
Once you have your connection to JMRI configured, you can launch a new throttle using either the DecoderPro or PanelPro applications.
In DecoderPro, select "New Throttle" from the "Actions" menu.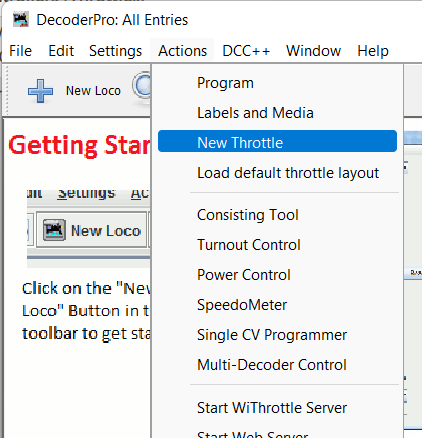 At this point, you should have your JMRI throttle window open ready for action: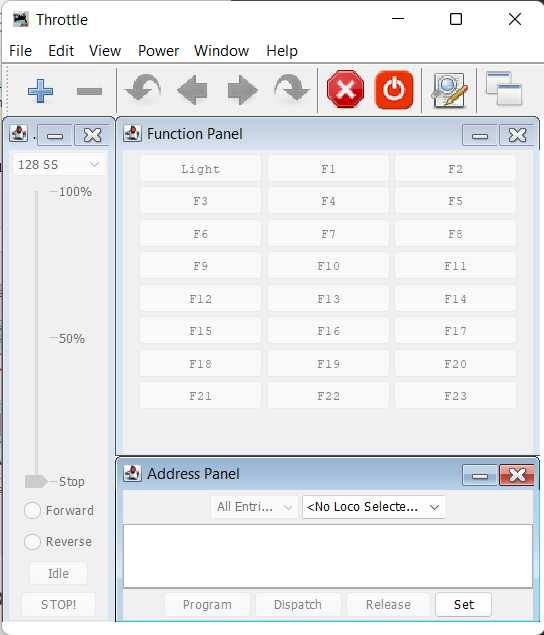 To select and control a loco from here, you need to:
Ensure track power is turned on using the Power button at the top of the window, or selecting "Power On" from the "Power" menu

Type the address of your loco in the "Address Panel" then press the Set button

You can now use the throttle slider, forward, reverse, Idle, and STOP! buttons to control your loco

Use the buttons in the "Function Panel" to control your various loco funcions also
Here we show a loco at address 3 selected, with track power turned on, and running in a forward direction at 25% speed:
If you're keen to learn more about JMRI, then we highly recommend going to the JMRI website and reading further on the features and possibilities available.